Click on the Art Pages button below to see thousands of high quality images we can use for your custom design!



Sample T-shirt designs


Printing Pricing Guides
UNISEX TEES AND TANKS
Short Sleeve (white) ** Short Sleeve (color) ** Short sleeve w/pocket ** Long Sleeve ** Long Sleeve w/pocket ** Tanks ** Polos
(Brands such as: Anvil, Fruit of the Loom, Gildan, Hanes, Jerzee,)
MMOISTER WICKING CREW NECKS
Moister Wicking
(Brands such as: N3142 A4, #M1009 Alo Sports, #790 Augusta, #4820 Hanes Cool Dri, #XT 76 Xtreme-Tek)
COMFORT COLOR UNISEX TEES AND TANKS
#C1717 Short sleeve ** #6030CC Short sleeve w/ pocket ** #C9360 Tanks ** #C6014 Long Sleeve ** #C4410 Long Sleeve w/pocket


Ink Colors

Thermo Flex Plus Vinyl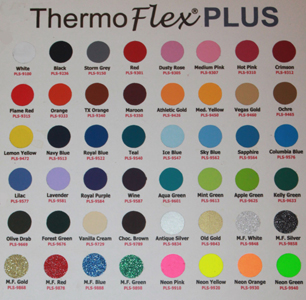 ThermoFlex Plus vinyl's can be used for the following materials:
cotton, cotton-blends, polyester, spandex, lycra, wool, linen and some athletic mesh garments. Will not adhere to nylon.